It's finally looking a bit like summer here in Halifax, and especially after a long winter indoors, our skin is more susceptible to sun damage. Incorporate these herbal remedies into your summer skin care routine for healthy, happy skin.
In this post we'll share some practical ways to reduce sun exposure, herbs that have healing benefits for different skin conditions, and ways to use those herbs in skin care recipes to nourish and protect your skin. We'll also talk about healing your skin from the inside with nutritive teas and a healthy diet.
PRACTICAL SUN CARE
The best way to reduce sun damage is to reduce exposure during peak sun hours. I know you probably want to run outside and soak up every drop of sun while it lasts, but it's best to start gradually in early summer so you don't burn. It's ok to get some sun exposure, but the most critical risk factor is burns. It's most important to avoid sun burns to prevent disease. Avoid getting burnt with these practical tips. 
Gradual exposure in early summer

Avoid peak sun exposure during the summer, 10 a.m. – 2 p.m.

Cover up with light clothing

Seek shade during peak hours

Wear sunglasses

Avoid burns

Get enough sun exposure – small, frequent doses
Sunscreen is not a failsafe method of avoiding burns, so it's important that you don't fall into a sense of false security, thinking that because you used sunscreen, you'll be fine. Sunscreen wears off over time, and in water and sweat, and can't be relied upon for complete protection from the sun.
Topical Summer Skin Care
Our skin is sensitive and absorbent to what is applied to it. Chemicals found in skin care products will soak through to deeper tissues of the body, which can then make their way to urine, blood and breast milk.  There are short and long term cautions and potential harm stemming from the use of certain chemicals found in sunscreens and other skin care products.
Read the ingredients when choosing a sunscreen and look for ingredients that are effective and not harmful.
Choosing a Sunscreen
A great resource for helping you choose a sunscreen is this website.
Environmental Working Group – 13th Annual Guide to Sunscreens
https://www.ewg.org/sunscreen/
Types of Sunscreen to Avoid
Skin is not an impermeable barrier, and many harmful chemicals that can be absorbed into the skin. Some chemicals in sunscreen are potentially toxic, and hormone disrupting. Avoid sunscreens with oxybenzone, PABA and trolamine salicylate, vitamin A.
Although Vitamin A is beneficial when ingested, it is harmful when applied topically and combined with sun exposure. Vitamin A might be listed under other names such as Retinol, Retinals, provitamin A, or beta-carotene.
Avoid artificial fragrances, and choose sunscreens with pure essential oils instead.
Spray sunscreens may seem convenient, but they are a respiratory irritant and potentially toxic. It's best to smear on sunscreen the old fashioned way.
Higher SPF (sun protection factory)  is not necessarily better. There is also debate about whether or not the really high spf sunscreens (40, 50+) offer any more benefit than SPF 30. The SPF scale is not linear, and although SPF 30 sounds like twice as much protection as SPF 15, that's not actually the case. In reality, SPF 15 blocks 93% of UVB rays, SPF 30 blocks 97% of UVB rays and SPF 50 blocks 98% of UVB rays, so it's better to focus on getting a high quality sunscreen rather than a really high SPF.
Ingredients to Look For in Sunscreen
Titanium dioxide and Zinc oxide, which are safe, effective sunblocks.
Even though you're choosing a safe, effective sunscreen that meets all the right criteria, it's not a foolproof solution.
Sunscreen alone is not enough protection.

Melanoma on the rise, despite the increased use of sunscreen.

Sunscreens are designed to prevent sunburn but don't necessarily offer protection against UV damage to DNA and skin cells.
Don't forget to wash off your sunscreen at the end of the day.
Uses for herbal summer skin care: after sun care, heat rash, treatment of burns, protection from skin damage, bug bites, wounds, infections
Herbs for Summer Skin Care
Medicinal herbs can also benefit your skin. Some nourish your skin from the inside, and some can be used in luxurious recipes to pamper your skin, or soothe it after sun exposure.
There are several herbs that are especially beneficial to the skin, for a wide variety of ailments, including summer sun care.
Calendula is easy to grow, and it has anti-inflammatory and soothing properties when applied to the skin. It's not too late to grow right now. You can still plant it in Halifax and get a late summer harvest.
Wild rose petals are fabulous for skin care. You can get rose water from most Middle Eastern or Mediterranean grocery stores, and you can use it as a nice cooling spritzer in the summer.
Lavender flower, like rose and calendula, is soothing, especially if you've had a burn. Lavender essential oil is a great thing to be included in a skin care recipe.
Violet grows wild all over Nova Scotia. It has a heart-shaped leaf, and white or purple flowers. The heart shaped leaves have both tannins and mucilage, which makes them both toning and soothing.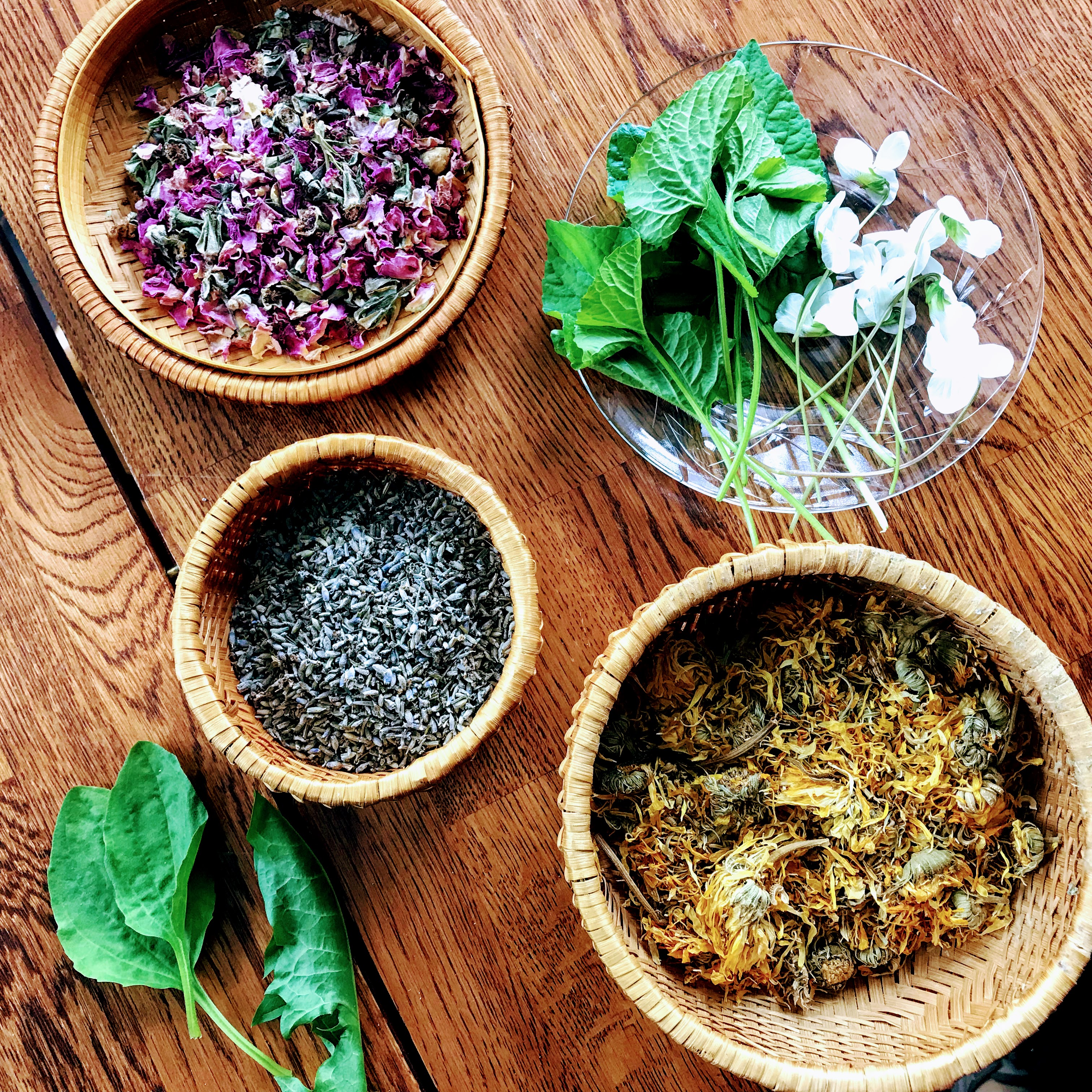 Rose water is also astringent, tones and tightens the pores. If you're in Halifax, you can get rose water at Mid East Food Centre
Plantain is a common weed that is abundant in lawns. Like violet, it's both mucilaginous and astringent. It can be used the same as violet, and it's also good for stings, and mosquito and black fly bites. Chew it up in your mouth until it gets pulpy, and apply it to your sting or bite. Leave it on for about 10 minutes. It will alleviate the pain and itching.
Chickweed is a common weed that is specific for itchy skin. After mosquito bites, you can chew it into a pulp and apply it like plantain, or use it in a cream or lotion. Chickweed is also a good addition to a herbal tea mixture, because it's cooling and refreshing, and can soothe you from the inside out. Chickweed is also helpful for moving lymph, so if you're one who gets really swollen from bites, chickweed will help reduce the swelling.
Chamomile is another cooling, anti-inflammatory herb that is good for topical care. Chamomile and lavender are a great combination if you've got a bit of a glow from too much sun.
St. John's wort is not a herbal sunscreen, as some believe, but it is good for after-sun care. It's particularly helpful for inflamed skin and burns. It would be a good addition to a herbal oil, lotion or cream.
One thing to note is that taking St. John's wort internally makes us photosensitive, so if you know you're going to be in the sun a lot, it's a good idea to avoid taking St. John's wort internally, either in tincture or tea form.
Oats are great for itch and inflammation. If your whole body is itchy or needs some cooling after-sun TLC, take a bath in coconut milk and oats. Bree Hyland of Barre Studio recommends pouring a can of coconut milk into your bath and add a sock full of oats. When the oats are good and steeped in the bath water, squeeze the milk out of the sock.
If you want to go out foraging for these herbal treasures, we've got some wildcrafting tips for you.
Summer Skin Care Preparations
Baths
Baths are great for full coverage, when your whole body needs attention.
Make a really strong tea with calendula, rose, lavender. Double or triple the proportions that you would for drinking tea.
To make 2 L of tea, steep a full cup of dried herbs or 2 cups of fresh herbs in 2L of boiled water, then add it to the bath.
Lotions, oils, salves.
Oils infused with herbs are excellent for after sun care.
Oils are herbal infusions in an oil such as olive, almond, sunflower, or grapeseed. The oils have the ability to extract the plant chemical into the oil. You can use the oil directly on your skin, or you could prepare an oil and then convert that into a salve.
Salves or ointments. A salve is an oil-based preparation mixed with beeswax to make it solid so it's a bit easier to apply.
Lotions are water based. You would mix a herbal water or tea with oil and emulsify it.
Compresses & Poultices
Compresses & poultices are local remedies involving wrapping up the skin with herbal medicines. A compress refers to making a strong herbal brew, soaking a cotton cloth in the tea. and wrapping up the area.
A poultice is similar to a compress, but instead of making a tea, you actually make pulp with the whole plant material and put it in direct contact with your skin.
Spritzers
Spritzers are great for cooling relief after too much sun exposure. Rose and orange flower water are available at most middle Eastern food stores. If you can find chamomile or lavender floral waters, they are also excellent for skin.
Herbal summer skin care from the inside
In addition to after sun care, and remedies for bug bites, it's also important to get the right nutrients to keep our skin healthy. We can get nutrients from plants in herbal teas, herbal vinegars, and eating a healthy diet.
Herbal Teas
Herbal teas offer antioxidants, which are important for protecting your cells. Calendula, thyme, rosemary fresh from the garden make a yummy and uplifting tea that is rich in antioxidants. Some other high-antioxidant teas are green tea, dandelion leaves, parsley, and watercress.  
Herbal Vinegars
Nutrition is another important element of healthy skin, and herbal vinegars are a great source of minerals, especially calcium and magnesium,
Making herbal vinegar is a great thing to do with spring greens. Chop up some greens and steep them in apple cider vinegar for a couple of weeks. Strain the vinegar, and then you can use it in salad dressings. There are LOTS of types of greens you can do this with, including horsetail, dandelion, evergreen tips, stinging nettles and more.
Sour Food & Drink
In Ayurveda, the ancient science of healthy lifestyle, the six tastes are associated with the increase or decrease of specific energetic properties. The sour taste is cooling, so it's great to sip on a sour drink in summer. You can make a delicious, refreshing iced tea with hibiscus, rosehip, and hawthorn berries. Add the herbs and let them simmer for about 15 minutes, then cool it with ice and float some orange slices in it.
Diet
Increase your intake of antioxidant nutrients that offer protection from free radical damage from the sun.  These include vitamins A, C and E, and zinc and selenium. A diet rich in fruits, vegetables (5-9 servings per day), whole grains, nuts and seeds will supply these and other important nutrients for protection at the cellular level. In the spring and summer, it should be easy to get all your veggies.
Nuts and seeds have Vitamin E and Zinc. A great way to add these to your diet is adding walnuts or sunflower seeds to pesto. You can even add some other spring greens in there besides basil, and you'll be getting a variety of minerals, too.
The skin is nourished and hydrated by adding essential fatty acids to the diet – fish, flax and hemp seed oils can be used in salad dressings and smoothies. If you eat fish, go for mackerel, sardines, wild salmon if you can get it.
Vitamin D: the "sunshine vitamin"
Vitamin D is another important consideration when it comes to summer skin care. We need sun exposure on our skin to activate the synthesis of Vitamin D in our bodies. Vitamin D is linked to the prevention of colon cancer and other cancers, diabetes, allergies, and many other ailments, and it's known to improve bone health. Vitamin D production may be inhibited by sunscreen. It's important, especially in northern climates to make sure we get enough sun exposure. This is a great reason to enjoy the sun, and to not approach the sun with fear.
With all these ways to take care of your skin with herbal remedies and nutritive herbs in your diet, there's no reason not to get out there and enjoy the sun!
Have a great summer!