These fudgy vegan s'mores fudgesicles are delicious and good for the digestive tract. They contain two special ingredients that set them apart from other fudgesicles, and make them really creamy and delicious.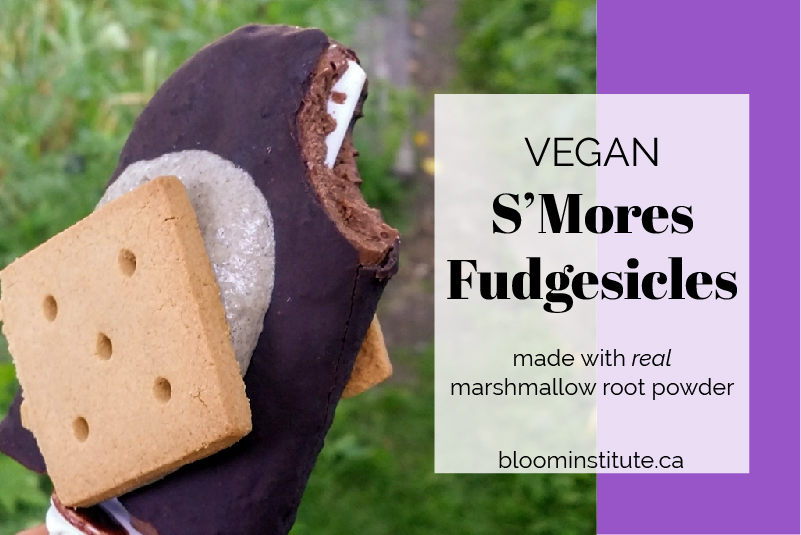 Marshmallow root is soothing for the digestive system. One of its medicinal actions is "demulcent" which is the internal equivalent of "emollient." If you think of putting a soothing cream on irritated skin, that's what a demulcent does for the mucous membranes of your digestive tract. It's cooling, moistening, and anti-inflammatory. 
The other special ingredient is high in fibre, and complements chocolate really well. I've snuck it in other chocolate treats like chocolate pudding, and it's a delicious way to add a bit of nutrition to your treats, and nobody will ever guess what it is. It's ….. prune baby food!! Sounds crazy, right? I know, but TRUST ME, you'll love it!
Smooth Move Vegan S'Mores Fudgesicles
For the Base 
200ml coconut milk
2 tbsp cocoa powder
2 tbsp marshmallow root powder
2 tbsp maple syrup
2 tbsp prune baby food
2 tbsp cold water
For the Magic Shell Dip
2 tbsp coconut oil
2 tbsp cocoa powder
1 ½ tsp maple syrup
Pinch of salt
For the Garnish
100ml coconut milk
2 tbsp marshmallow powder
½ tsp vanilla extract
stevia powder to taste (optional)
Vegan graham crackers
Instructions 
I use a quick-pop maker for these, but you can make them with any paddle-shaped freezer pop mold. I will give instructions for both methods.
Prepare the dip in advance if using a quick pop maker, or just before you take them out of the freezer if using normal molds. Whisk magic shell dip ingredients together until smooth. If the coconut oil is solid, microwave for just a few seconds at a time until it is liquid. Do not overheat it or it will melt your pops!
Make the Chocolatey Vegan S'Mores Base
Get your popsicle molds ready at your cooking station. Marshmallow is a thickener, and you'll want to work quickly to pour the mix into the molds before the batter gets too thick. 
In a 2c measuring cup, whisk together the base ingredients. 
Pour into molds and freeze.
ZOKU: It's really important that the "batter" is free-flowing, and not too thick and pudding-like. If it's too thick, whisk in more cold water, 1 tbsp at a time.
Dip the Pops in the Magic Shell
Place parchment paper on a cold plate and set aside. Working quickly, remove the pops from the mold one at a time. Hold over a clean bowl while you spoon or pour the chocolate dip over the pops. Rotate the pops so the chocolate coats evenly and drips down into the bowl. The dip will harden very quickly.
Place the finished pop on the parchment and return to the freezer immediately. Repeat with remaining pops, and put them back in the freezer as you finish dipping them.
Another option instead of dipping is to lay all the pops on parchment and drizzle the chocolate in lines across them. 
Garnish with Vegan Marshmallow and Graham Crackers
These will be delicious (and less messy) without the graham crackers, but they won't be as s'more-y. So if you really want vegan s'mores instead of just fudgesicles, the extra effort is worth it. 
For the marshmallow paste, whisk together the coconut milk, marshmallow powder, and vanilla. Chill until firm. Carefully spoon a dollop of marshmallow paste onto each side of the pop, and gently press a graham cracker into the paste. 
Notes: 
I like Arroy D coconut milk, because it doesn't have guar gum in it. I prefer the texture. 
PIN IT: